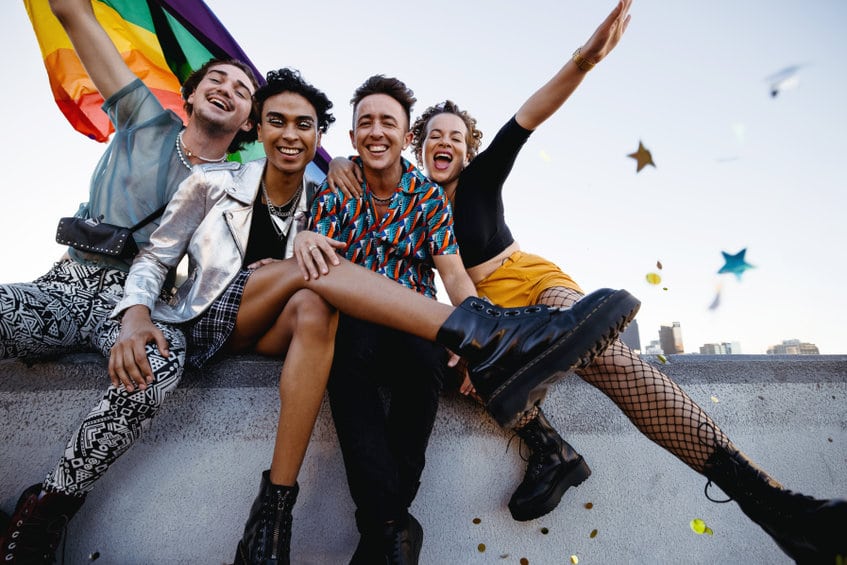 Last updated February 6, 2023
Pride means celebrating the LGBTQ community, and at ProFellow, we're celebrating by doing our part to connect LGBTQ leaders, scholars, students, artists, and activists with funding and fellowships. This list of LGBTQ fellowships includes opportunities for leadership programs, political mentorship, a scholarship for aspiring lawyers, an internship for LGBTQ students pursuing an MBA, and more.
Celebrate Pride by applying for one of the many LGBTQ Fellowships listed below, or by sending this list along to an exceptional LGBTQ leader in your community. Remember: You can bookmark any Fellowships that interests you to your free ProFellow account by clicking the links below!
LGBTQ Fellowships for Students, Scholars, Activists, and More
Calling all academics, artists, filmmakers, journalists, and scholars! This Fellowship offers the opportunity to create archival collections that reflect the histories and perspectives of marginalized groups within the South Asian American community, including the LGBTQ community. This program is open to all U.S.-based individuals who are members of the community they will be archiving, or in which they otherwise have deep existing relationships. No formal archival training is necessary, but applicants should have a strong demonstrable interest and commitment to community memory and storytelling.
The David Bohnett Leaders Fellowship aims to develop a strong cohort of LGBTQ public officials. Designed for LGBTQ senior-level executives working with state and local governments — including government officials, nonprofit leaders, and elected officeholders — this intensive, three-week program at the Harvard Kennedy School in Cambridge, Massachusetts, hones the skills and furthers the leadership potential of accomplished individuals from across the United States. Candidates must concurrently apply to Harvard University's Kennedy School of Government. 
The Victory Institute offers a year-long intensive leadership fellowship for 1 to 3 outstanding LGBTQ young professionals. Selected Fellows will support the Executive Director of the LGBT Equality Caucus and learn about the legislative process while becoming informed decision-makers who can positively transform their communities. Applicants must be U.S. citizens, 21 years of age before the start date, and hold a bachelor's degree or graduate degree from an accredited university. 
The Gleason/Kettel Summer Law Fellowship program provides a $5,000 stipend for current law students or recent law school graduates to work in the field of sexual orientation and gender identity law and public policy. This Fellowship aims to identify and equip the next generation of leaders committed to promoting rights and equity for the LGBTQ community. 
The Govern For America Fellowship is a 2-year paid fellowship for recent graduates to serve in high-impact roles in governments across the country as a part of a diverse community of engaged leaders. Roles include data analyst, financial analyst, and program manager. The program actively seeks applicants from traditionally underrepresented in government leadership, including those from the LBGTQ community. 
The LEAGUE Foundation's LGBTQ Scholarships provide funding for LGBTQ-identifying high school seniors entering their first year at an accredited college, university, or vocational school within the United States or Canada.  
Morgan Stanley MBA Fellowship Program
The Investment Management department of Morgan Stanley is offering a Summer Associate Internship and a scholarship for first-year MBA students. LGBTQ MBA students are eligible to apply. Students will spend the Summer Associate Internship at one of the Morgan Stanley locations throughout North America. 
This Fellowship offers up to $15,000 in funding for Master's Students studying Addiction Counseling. Eligible applicants must demonstrate knowledge of and experience in addiction/substance abuse services to underserved minority communities, including LGBTQ populations. U.S. citizens and permanent residents are encouraged to apply, especially those from underrepresented minority groups.
The Fellowship for Equitable Development aims to increase the capacity of grassroots community leaders to champion economic resiliency efforts related to affordable housing, entrepreneurship, and economic development. The program is designed for community-based organizations and graduate students in the Washington, DC, metropolitan region. Priority will be given to applicants of color and applicants from the LGBTQ community. 
The Out to Innovate Scholarships are for LGBTQ undergraduate and graduate students pursuing degrees in science, technology, engineering, or mathematics (STEM) programs. The scholarships are designed to increase the visibility of talented LGBTQ students in STEM careers by encouraging students to be out in their careers.
Berkeley University's Diversity and Community Fellows support an inclusive graduate community at Berkeley University by enhancing the cultural, academic, and professional experience of historically underrepresented students, such as students from the LGBTQ community. Diversity and Community Fellows receive a stipend of $7,500 per academic year.
The oSTEM Scholarship program provides 15 scholarships up to $5,000 to LGBTQ college students who intend to pursue a STEM degree. Applicants must be attending an institution based in a country where oSTEM has active chapters: the U.S., United Kingdom, Canada, or Mexico.
The Point Foundation's Community College Scholarship provides LGBTQ students enrolled in a community college with a scholarship, personal mentor, and access to the Point Foundation's network of LGBTQ scholars and alumni.
ProFellow Tip: Find out How Community College Students Can Find and Win Competitive Fellowships. 
This fellowship empowers LGBTQ students to succeed in their education at accredited four-year institutions in the United States. Flagship scholarship recipients receive financial support, access to multiple leadership development programs, mentorship and coaching, and the support of a community of scholars and alumni. Eligible students must be "out" as a person who identifies as a member of the LGBTQ community.
This Fellowship offers LGBTQ individuals funding of up to $10,000 to study abroad anywhere in the world. Applicants must be U.S. citizens enrolled as an undergraduate at a college or university in the U.S, and study abroad programs must be at least 4 weeks in length to be eligible for funding.
Romba Fellows serve as ambassadors for the LGBTQ community and advocate for LGBTQ rights in their respective MBA programs. Fellows are offered a minimum $20,000 scholarship and access to exclusive mentorship opportunities. The aim of the program is to develop the future LGBTQ business leaders of tomorrow.
Twenty Roddenberry Fellows will be selected for this 12-month program that provides a $50,000 award and tailored support to implement a project or initiative in one of the five areas: Civil Rights, Environmental Protection, Immigration & Refugee Rights, LGBTQIA & Women's Rights, and Health & Wellness
Sarah Pettit Doctoral Fellowship in Lesbian Studies
The Sarah Pettit Doctoral fellowship is an intensive dissertation writing workshop for a group of doctoral fellows from universities outside of Yale. Applicants must be enrolled doctoral candidates who have completed coursework and qualifying exams and submitted their dissertation prospectus. Students working on projects concerned with a range of genders, gender identities, sexualities, and sexual practices are invited to apply.
The Traub-Dicker Rainbow Scholarship supports lesbians in their pursuit of higher education. This program provides one-year scholarships of $4,000 to several students graduating from high school or already enrolled in college in any year of study, including graduate school. Scholarships are paid directly to the recipient's school and are applied toward tuition. Submissions are judged on academic achievement, community service and leadership, and commitment to impacting LGBTQ issues.
The Victory Empowerment Fellowship is for LGBTQ leaders of color and/or transgender leaders who are seeking to expand their campaign skills and policy-making power. Fellows will join a cohort of movement leaders from across the country and connect with alumni for ongoing leadership development opportunities.
The Williams Institute Summer Law Fellowship allows law students to develop expertise in sexual orientation and gender identity law and public policy by researching and writing to support Williams Institute Scholars who focus on legal issues that impact the LGBT community.
This one-month fellowship is offered annually and designed to provide access to Yale LGBT Studies resources to scholars who live outside the greater New Haven area.  This fellowship supports scholars from any field pursuing research in lesbian, gay, bisexual, transgender, and/or queer studies to utilize the vast faculty resources, manuscript archives, and library collections available at Yale University. Graduate students conducting dissertation research, independent scholars, and all faculty are invited to apply.
Looking for additional funding opportunities? Sign up to discover and bookmark more than 2,400 funding awards for professional development and graduate study, including fellowships, scholarships, grants, and more in the ProFellow database.
© ProFellow, LLC 2022, all rights reserved