Last updated January 1, 2018
A few years ago when I first began looking at Master's and PhD programs, I wasn't aware that many universities fully fund their doctoral students. Full funding normally includes full tuition and a stipend for living expenses for the four to six years a student is in the doctoral program. In most cases, doctoral students are expected to serve as graduate teaching or research assistants in exchange for the awards. This responsibility is typically complementary to your PhD research and provides students with teaching experience.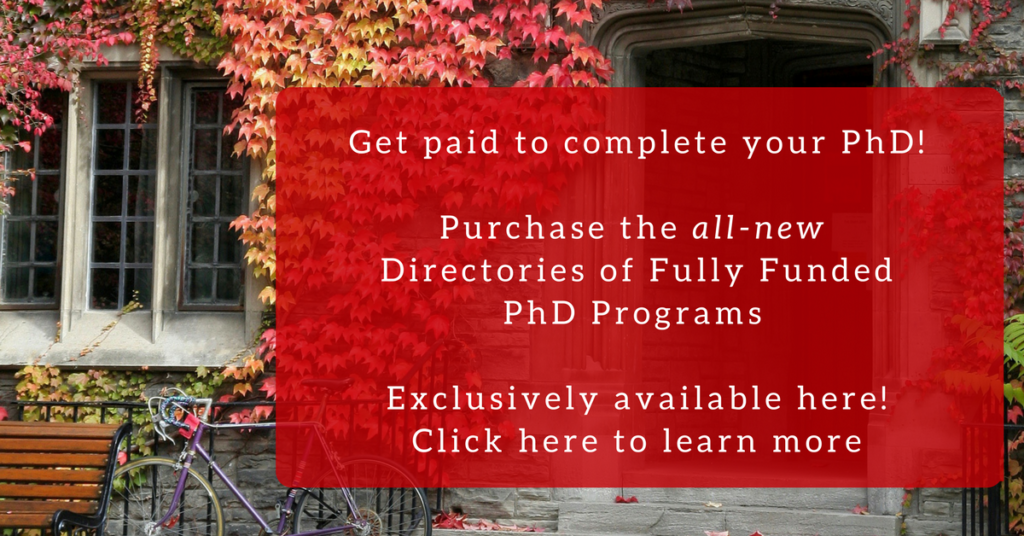 Because I wasn't aware of full funding opportunities, I considered a PhD impossible and pursued a Master's degree instead, taking out both a federal and private loan to fund my studies. I learned of fully funded doctoral programs while looking for fellowships for others, and I was very fortunate to enter a PhD program at Massey University in Wellington, New Zealand that fully funded my studies. I wouldn't have considered pursuing a PhD if I had to pay for my doctoral studies.
In most cases, finding and entering a doctoral program with full funding is easier that winning a competitive external fellowship or scholarship, like the Hertz Foundation Graduate Fellowship. Not only are these external fellowships more competitive, but often they only fund the 3rd, 4th and 5th year of your PhD study, when you are completing your dissertation research. Therefore, when considering a doctorate, research all the potential PhD programs in your academic field, including small and lesser-known schools both in the U.S. and abroad, and ask the admissions office if they fully fund every admitted student. This may have a major impact on the schools you consider applying to.
Just a small sample of PhD programs that are fully funded:
All PhD students at Columbia University get full funding. Columbia has particularly strong programs in medicine and sciences, as well as public administration and policy.
Boston College's Department of Psychology offers a four- to five-year, full-time, fully-funded, research-oriented doctoral program.
Students admitted Duke University's PhD program in Military History receive multi-year funding packages from the graduate school, including tuition waivers, a stipend, and a teaching assistantship or gradership.
The Joint Program in Social Work and Social Science at the University of Michigan gives all incoming doctoral students a multi-year funding package. This is a package of fellowship awards, graduate student research assistant positions, and graduate student instructorships that covers tuition, stipends, and health care.
One thing to keep in mind is that a PhD stipend may be substantially less than what you are earning in the private sector. Yearly stipends normally range from $18,000 – $30,000. Small cities and towns have lower costs of living, so another major factor in your consideration should be location.
Below are links to my ongoing series of articles on fully funded PhD programs (these articles are regularly updated):
Fully Funded PhD Programs in Accounting
Fully Funded PhD Programs in Biomedical Engineering
Fully Funded PhD Programs in Business
Fully Funded PhD Programs in Chemistry
Fully Funded PhD Programs in Communications
Fully Funded PhD Programs in Computer Science
Fully Funded PhD and MFA Programs in Creative Arts, Writing and Film
Fully Funded PhD Programs in Economics
Fully Funded PhD Programs in Education
Fully Funded PhD Programs in English
Fully Funded PhD Programs in History
Fully Funded PhD Programs in International Relations and International Development
Fully Funded JD and PhD Programs in Law
Fully Funded PhD Programs in Linguistics
Fully Funded PhD in Mathematics
Fully Funded PhD Programs in Machine Learning
Fully Funded MD-PhD Programs (Medicine)
Fully Funded PhD Programs in Neuroscience
Fully Funded PhD Programs in Pharmacology
Fully Funded PhD Programs in Psychology
Fully Funded PhD Programs in Public Health
Fully Funded PhD Programs in Public Policy And Public Administration
Fully Funded PhD Programs in School Psychology
Fully Funded PhD Programs in Social Work
Fully Funded PhD Programs in Sociology
Also see:
Fully Funded PhD Positions in Germany
Master's or PhD? My Advice – Follow the Funding
Fellowships to Fully Fund a Master's Degree
For application tips, see:
How to Get Into a Fully Funded PhD Program: Contacting Potential PhD Advisors
3 Tips for Applying to Fully Funded PhD Programs
With or without full funding, doctoral students are encouraged to apply for fellowships to fund their dissertation research. Sign up to check out our fellowships database to learn about other opportunities to fund graduate and doctoral study.
© Victoria Johnson 2013-2017, all rights reserved.